Performance tuning
This is the easiest way to earn more with LoadTeam.
LoadTeam comes pre-configured to be gentle on your computer.
More specifically, LoadTeam uses only 20% of your computer's power when you are using your computer and 40% when you haven't used your computer for longer than 10 minutes.
To adjust how hard your computer works, open LoadTeam, click on the File menu, then Performance Tuning.
Adjust the sliders to configure how hard LoadTeam should work when the computer is being used (top slider) and when the computer is idle (bottom slider).
As you adjust the top slider, you will notice the number of calculations per second changing.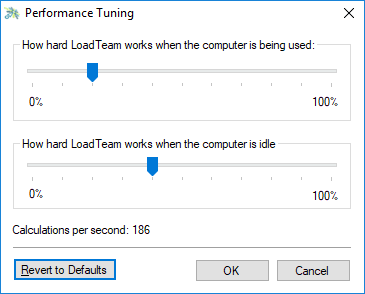 Warning! Using a large percentage of computer power may cause your computer to become temporarily unresponsive. Please make sure there is enough processing power left for other tasks to run, such as your web browser, e-mail client, Word, Excel, etc..
Referral program
Refer your friends to LoadTeam and earn 10% of everything they earn.
Unlimited referrals, unlimited earnings.
Promotional video
Make a promotional video for LoadTeam and and we will pay you if your video is accepted and published. See some examples below: